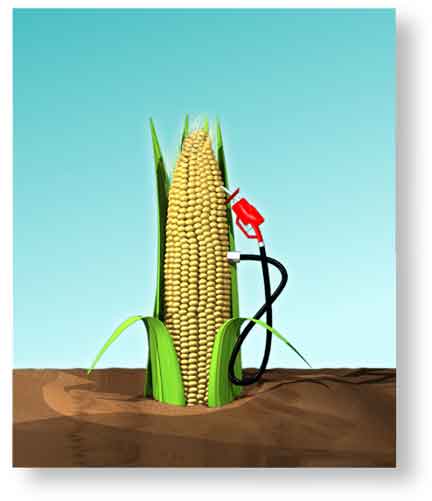 Biofuels Not Environmentally Friendly
According to Nobel Prize winner Paul J. Crutzen biofuels actually contributes to global warming, because it is still the same basic result: Burnt fuel and carbon dioxide.
But that is not all. Biofuels, which are derived from plants such as corn, hemp or canola, require producers to use industrial fertilizer which actually increase the output of nitrous oxide, a powerful greenhouse gas.
Nitrous oxide is approx. 300 times more insulating than the most common man-made greenhouse gas carbon dioxide.
"The nitrous oxide emission on its own can cancel out the overall benefit," says co-author Professor Keith Smith.
Europe's biofuels are made mostly out of canola, which could produce between 1 and 1.7 times more greenhouse gases than diesel.
In North American biofuels are made mostly out of corn was shown to produce between 0.9 and 1.5 times the greenhouse gases.
In Brazil they use sugar cane and is one of the cleanest options, producing only between 0.5 and 0.9 times as much greenhouse gases as gasoline.
The findings puts out the question: If burning biofuels still makes carbon dioxide and other greenhouse gases why use biofuels?
However the study did not take into consideration "the extra global warming effect of burning fossil fuels in the process of making biofuel.
Although Crutzen's study seems to burn biofuels at the stake, the scientist suggests rather that scientists and farmers work in collaboration to focus on crops which would require little fertilization but grow fast, such as willows and poplars.
The research team also suggests farmers look for harvesting methods that require less energy.
"In future if you use low nitrogen demanding crops, and low impact agriculture, then we could get a benefit," said Professor Smith.
Mass production of synthetic fertilizer during the 20th century has almost doubled the amount of nitrogen in the global system, adding nearly 100 million tonnes to atmosphere.
---
Biofuel isn't the Only Industry trying to Cash In on Greenery
So biofuel isn't really good for the environment. In fact it hurts the environment by basically setting fire to fields of crops in an effort to fuel cars. On the surface biofuel sounds green, but its just a deception to trick people into buying more expensive diesel.
Another way to do this is in the cosmetics industry. If a company changes a few ingredients in one of their products and then slaps the words "Organic" or "Green" on the packaging they can charge more for a product than they normally would and make a bundle off the people willing to pay extra for a cosmetics product that uses something organic like beeswax instead of a synethetic material or man-made chemical. Or maybe doesn't even remove said chemicals, but just adds an organic component to the recipe.
Organic skin care products for example often contain many such chemicals. All of which are designed to make your skin more silky smooth and moisturize your skin. Some of them, yes, are from organic sources. Aveeno Creamy Moisturing Oil for example contains Sesame Seed Oil, Oats Kernel Oil, Sweet Almond Oil... but it also contain glycerin, cetyl alcohol, glyceryl stearate, magnesium aluminum silicon and a host of other man made chemicals. So yes, the product contains various organic oils, but a bunch of other stuff too designed to moisturize your skin.
Now how does using sesame seed oil help save the planet?
Well...
It doesn't. You're killing plants to give yourself softer skin. Its the same logic as biofuel. Oh look, its made from plants! Lets kill all the plants and use them for fuelling our cars and giving ourselves softer skin!
Years ago there was an organization in China trying to convince people that everyone has to become vegetarian in order to somehow stop global warming and prevent "poisonous methane gases" from being released in the arctic. It was not only unrealistic (because people are not going to stop eating meat just to please the vegetarian community) but there is also the disconnect in the logic that eating plants instead will somehow prevent methane from being released in the arctic.
Also, is organic food actually better for you? Well, according to scientists organic food doesn't make any difference in terms of pesticides or nutrition. Or at least not any major difference. The results of scientific studies show that organic food only has 30% less pesticides. Organic food is NOT pesticide free, because they are grown from genetically modified seeds to create their own pesticides to ward off insects. So you're either eating food that is sprayed with pesticides (and then washed off) or you are eating GMOD food that contains pesticides inside the plant. Yes, the amount of pesticides are 30% less than non-organic... but its really a minuscule difference.
Say you have two grapes. 1 grape has 10 microns of pesticides on the surface. The other has 7 microns of pesticides inside it. And both are well below safety limits of something like 100 microns.
So the question then is, is it worth it to pay double for genetically modified food that contains slightly less pesticides?
And the same goes for skin care products. Why are you paying extra for a little something more on the label? Are you really saving the planet by using beeswax instead? No.
If companies really want to go green what they should do is work on their PACKAGING first. Cut down on the amount of plastic they are using and use materials for packaging that can be more easily recycled.
And while they are at it they should invest in building a fleet of transport trucks that run on hydrogen instead of diesel. Hydrogen is a way greener way of transporting things.
And lastly, what about the products being shipped by air freight or via ship? Many organic food items are actually grown in South America and Africa and then shipped to North America in cargo planes. Cargo planes using jet fuel. Not very green at all. The food should be grown locally in greenhouses instead and reduce the cost of shipping dramatically. Many foods cannot be shipped in ocean liners because they will go bad by the time they reach port in North America.
If consumers want to go green with their shopping they need to start thinking in terms of the following:
#1. Buy Locally Made Products
#2. Buy Products which use Minimal Packaging.
#3. Read the Labels so you know what is in the product and how it was made. Organic or not organic, doesn't matter. Was the environment harmed during the process?
Shop Smart!
---
Recycling Biofuel from Garbage Oil
I would argue that the only "good" kind of biofuel is that made from garbage oil from restaurants - they use the grease until it can be used no more and normally it would be thrown out - but there are companies that now specialize in recycling cooking oil and using it as biofuel.
Recycling companies in general is a growing business. They take other people's junk - for a fee - and then recycle whatever they can and make more money off the recycled items. For them it is a double whammy, they get paid to remove garbage - and they get paid to deliver garbage to recycling centres. Everything from plastic, wood, metal, electronics and even bio-waste can be recycled.
And even if it cannot be recycled, then it can be incinerated to produce electricity. So such companies have huge potential for profits.
Take for example the junk removal Edmonton company Vanish Site Removal, which is a local company that provides residential and commercial rubbish collection and junk removal services in the Edmonton Area - and looking at their website, that appears to be their only services. According to their websites they do everything from standard household garbage pick-up to heavy junk hauling, not bad for a small company.
But what they don't tell you is that they and other companies like them are taking the garbage they collect and then selling it to recycling centres. Their services are good and on par with other garbage removal Edmonton companies, so it doesn't really matter which company a person hires - they are all in the recycling business.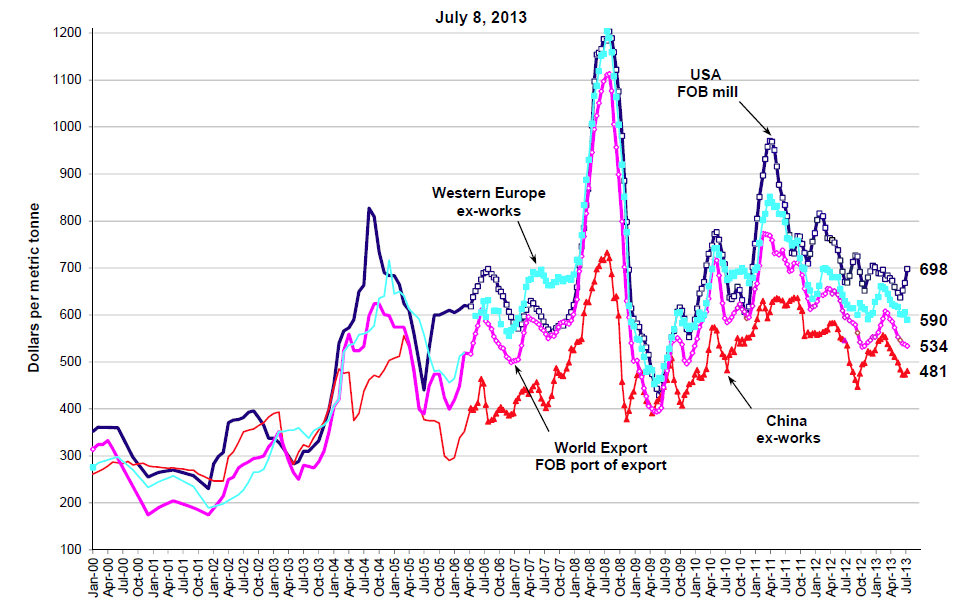 And very profitable.
Lets take steel recycling for example.
Steel prices are up dramatically since January 2000. By 2007 steel prices had doubled. In 2008 steel prices skyrocketed during the recesssion, making steel recycling extremely profitable. Currently (July 2013) prices are hovering around a little more than double January 2000 prices. Now to be fair, recycling steel was always a smarter route. It was cheaper than mining steel out of the ground. But now with steel prices sky high it means that recycling is ridiculously profitable.
Therefore imagine the benefits of owning a company which collects junk - including steel - gets paid a fee just to collect it, and then recycles it for a huge profit. It is just brilliant.
It makes me wonder if I am in the wrong business.
Benefits of Shale Gas
Shale gas has been a big topic in the energy industry for a number of years. As countries around the world continue to look for new sources of energy, they must also discover energy that is cleaner because of fears of global warming. This is why so many energy companies are making the switch to renewable energy. Although renewable energy is clean to produce, it's also very expensive. This means that energy companies are unable to make the switch right away. In the meantime, they have to come up with clean forms of energy that are less expensive to produce than renewable energy. The answer for many has been shale gas.
U.S. Has a Huge Supply of Shale Gas
While supplies of oil might be dwindling in some areas, the supply of shale gas is ample. Energy expert Daniel Yergin, along with other energy industry insiders, agree that shale gas is cleaner than other sources of energy, such as coal. While the use of coal has been on the decline in many countries, there are still some that rely on coal to produce energy. Shale gas is said to be nearly 30 to 50 percent cleaner than coal. Companies who switch over to using shale gas can lower their carbon footprint and do their part for the environment.
Shale Gas Costs
The cost of shale gas varies from country to country. It really depends on the supply of shale gas to which any given country has access. In general, shale gas is said to be around 17 percent cheaper than the most inexpensive renewable energy source. To break this figure down even further, shale gas is around 20 percent cheaper than onshore wind farms and nearly 50 percent cheaper than developing solar energy technologies. As technology improves, the cost of manufacturing renewable energy declines, making shale gas a great stepping stone for energy companies that are invested in reducing their carbon emissions. The Energy Information Administration suggests that the average cost of producing shale gas in 2012 was between $67 and $75 per megawatt hour. Onshore wind farms cost around $96 per megawatt hour, and solar cost upwards of $153 per megawatt hour. Comparing it to other forms of energy, nuclear energy cost around $111 per megawatt hour to produce in 2012.
Creating Jobs
Companies switching over to shale gas have started to create more jobs. More money is being spent into not only the research of shale gas but also the manufacturing of this technology to be used in the field. This creates research, manufacturing and field jobs. Whenever new jobs are created, the economy is spurred on. Creating jobs in any industry is something upon which most people look favorably.
Making a huge shift, such as changing the type of energy that the majority of the world runs on, is something that takes time. While the whole world hopes to eventually be running on renewable energy, this dream could take decades to become a reality. In the meantime, countries need a way to reduce their carbon emissions in a cost-effective way, and shale gas promises to be that solution.