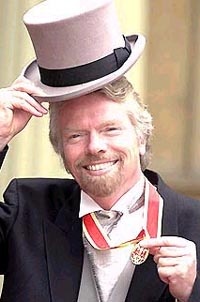 How Cool Is Richard Branson?
Mike Catherall - February 9th 2007.
The guy rules. First he makes himself a billionaire through edginess and irreverence and stomping around where his conservative competition dare not tread with Virgin, then, heís off to save the world.
Today he announced a $25 million reward to anyone who can come up with a way to stop global warming.
Money is a great motivator and $25 million is a good chunk of change.
During World War II there was a race against time to build the atom bomb. The most brilliant scientists in the world were working on a death machine. Itís very ironic, but the way of the world, smart people usually go where the money is, after all, itís rather smart to make money.
Today the top minds are lured into weapons and pharmaceuticals. There just isnít the funding behind philanthropic causes. Until now.
It would be amazing to see a think-tank start up with only this prize in mind. The top scientists, lawyers, politicians, writers and businessmen joining forces with $25 million flashing like dollar signs in their eyes. They could make it into a reality show.
Either way, Richard Bransonís pledge has probably caught the imagination of many an inventor and entrepreneur and it is only a matter of time before we see some radical solutions pop up.
What a guy. PR stunt or no, itís a pyramid-worthy way of securing his dominion in this lifetime. Hats off.
---
Branson shakes telecoms industry
Virgin Media in TV, Internet and phones
Greg Wright - February 9th 2007.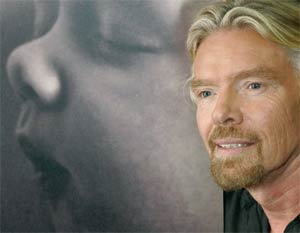 SIR Richard Branson yesterday pledged to shake up the telecoms and entertainment industry with the launch of Virgin Media Ė a rival to broadcasting giant BSkyB.
The tycoon unveiled Virgin Media, which is the new brand name for NTL after the cable operator bought Virgin Mobile and Telewest last year.
It offers digital television, broadband Internet access and mobile and home telephone services.
Virgin Media aims to be able to reach at least 97 per cent of UK households by the end of the year.
The 'quadplay' offering will be sold on the high street in 15 Virgin Mobile stores due to be opened this year, alongside 75 Virgin Megastores and promotional sites in more than 100 UK shopping centres.
Virgin Media is soon expected to announce a partnership with a retailer to sell the service in hundreds of shops across the country.
Virgin Media, available at a cost of between £20 and £40 depending on services chosen, will go head-to-head with rival BSkyB, which only last month launched its television and telephone package 'See, Speak, Surf'.
Virgin Media chairman Jim Mooney said at the launch event: "Virgin Media is better by far than what the competition has to offer. Our competitors have never had to deal with the Virgin brand coming down their tailpipe before and deal with the competition of customer services getting better and better week after week."
Sir Richard was whisked off by burlesque performer Dita von Teese after the launch to spend the day in a specially-created glass lounge in central London.
Virgin Media offers three price plans: two products from the 'quadplay' menu for £20, three for £30, or four for £40, plus the option of a "VIP" premium package.
The group is set to launch an interactive, TV-on-demand cable channel, called Virgin Central, later in the month, which will offer viewers access to a library of shows including Little Britain, West Wing and Nip/Tuck.
Virgin Media is in negotiations to renew its deal with BSkyB to air Sky One, which runs hit shows such as 24 and Lost, when the contract comes up for renewal at the end of the month, but the two companies have still to reach an agreement.
Relations between BSkyB and Virgin Media were strained after Rupert Murdoch's group scuppered NTL's hopes of a £5bn takeover of commercial broadcaster ITV at the end of last year when it bought a 17.9 per cent stake in ITV.
The move infuriated Sir Richard, NTL's largest shareholder, and is being investigated by Ofcom and the Office of Fair Trading.
Virgin Media's chairman said the group would not rule out further acquisitions similar to the ITV takeover attempt in a bid to secure content. NTL bought Virgin Mobile last year in a £962.4m deal just months after it bought Telewest for $6bn (£3.2bn).
In the latest report compiled by Internet testing company Epitiro, Virgin came fifth in the table of ADSL broadband providers in the UK.
BT was top, Pipex came second, and Orange and Demon were third and fourth respectively.
The Internet performance indicator report, compiled over the fourth quarter of 2006, is based on more than 622,000 data samples from 11 places around Britain.
Virgin had the lowest percentage of connection failures over the last three months of 2006, according to Epitiro's research.