ANALYZING HARPER'S LETTER
Suzanne MacNevin - January 31st 2007.
Carbon dioxide is NOT essential to life. Oxygen is. Plants "use" carbon dioxide, which there is too much of.
Pollutants polute the environment, they DO NOT contribute to global warming and climate change. Harper is confusing pollutants with green house gases.
Canada is NOT the only country in the world required to make significant cuts in emissions. China, Japan, the United States and the European Union also needs to cut emissions. Third World countries are exempt because they don't produce huge sums of carbon dioxide/green house gases.
Implementing Kyoto will NOT cripple the oil industry. Cutting emissions can be done by making cars more fuel efficient. We will still need oil and gas to run the cars, we just need to make them more efficient. Same goes for factories that need to become more efficient.
Canada does not need to buy "emissions credits". Harper is being ridiculous. If Canada does not meet the Kyoto levels of emissions they can simply withdraw and set a new deadline to comply with Kyoto. Buying so-called credits from other countries is a cop-out.
In conclusion, Harper's reasonings for not backing the Kyoto Accord are based on "fuzzy logic" which doesn't make any real scientific sense.
---
Environment czar calls firing a 'surprise'
Canadian Press - January 30th 2007.
OTTAWA — The abrupt firing of Environment Commissioner Johanne Gelinas, known for her outspoken criticism of both Liberals and Tories on the environment file, has set off a political storm on Parliament Hill.
Gelinas, whose last report urged a massive scale-up of efforts to combat climate change, learned of her dismissal Tuesday from an online news report, said a source.
Gelinas herself said her dismissal came as a "complete surprise."
Environmentalists and opposition critics praised the commissioner's work and said they would be demanding answers about her departure.
"Mme. Gelinas was a true advocate for the environment," said NDP environment critic Nathan Cullen. "She spoke with an independent mind. We're searching for an explanation."
John Bennett of the Climate Action Network said it was a sad day for the environment.
Auditor General Sheila Fraser, Gelinas' boss, issued a news release saying Gelinas was leaving "to pursue other opportunities."
But Liberal environment critic David McGuinty said Fraser made it clear to the environment committee at a private meeting Tuesday that she felt Gelinas had been taking on too much of an advocacy role.
"I know Ms. Gelinas very well, she is an extremely capable woman who has served the country well, it bothers me enormously," said McGuinty.
The environment commissioner's job description, as described on the Auditor General's website, seems to call for an advocacy role.
"Encouraging the government to be more accountable for greening its policies, operations, and programs is a key to the commissioner's mandate," says the job description.
But Fraser apparently thought Gelinas crossed the line.
Rumours also swirled Tuesday about a personality conflict between Gelinas and Fraser, and possible political interference from the Conservatives.
In a statement late Tuesday, Gelinas acknowledged she and the Auditor General have had a "difference of opinion" for the past year on her role as environment commissioner.
But she said their discussions on the matter "were in private, with no interference whatsoever from the government of Canada and its representatives."
Gelinas said that while she was considering a "future departure" from her post, ` today's announcement from Mrs. Fraser was premature and came as a complete surprise to me."
In her last report, Gelinas called on the Tory government to set short-term targets for cutting greenhouse emissions, to replace those of the Kyoto Protocol which it has rejected.
"The current government has announced that Canada cannot realistically meet its Kyoto target. If so, then new targets should take its place," her report said.
Gelinas noted in the September report that greenhouse emissions from Alberta's oil sands could double between 2004 and 2015, and called for a strategy to deal with the problem.
"First and foremost, the government needs to clearly state how it intends to reconcile the need to reduce greenhouse gas emissions against expected growth in the oil and gas sector."
Charles Caccia, a former Liberal environment minister who sits on the environment commissioner's advisory committee, said the government must have known about and at least tacitly approved the firing.
"I cannot see how she (Fraser) would go ahead without protecting her back and without letting the government know . . . or without picking up some signals of criticism of the commissioner from the government and using them as an excuse to proceed with a dismissal."
He said that Fraser should have consulted Parliament, to which she reports, before taking such a drastic action.
"If she took this decision on her own she failed to consult the very institutions to which she is responsible."
A spokesman for Environment Minister John Baird said the authority to replace the environment commissioner rests entirely with the auditor general.
Green Party Leader Elizabeth May said Fraser has for some time been unhappy with the independence shown by Gelinas and has already taken measures to reduce the commissioner's role.
"It's been coming for some time. Every since the commissioner filed her report on climate change there have been efforts to shut down the office and curtail her role."
The Commons environment committee has called Fraser to testify at an open meeting Wednesday to explain Gelinas' departure.
Margo Booth, a spokeswoman for Fraser, said it was her impression that Gelinas had left voluntarily, but she could not say so categorically. Booth denied any possibility of political interference.
"The office of the auditor general is entirely independent and there would be no room at all for political interference in any of its activities."
Cullen said that Gelinas' firing will make any future commissioner more cautious in approaching the job.
"If a cloud of doubt remains that there's partisanship or political interference, Canadians can no longer rely on the information they're given."
John Godfrey, chair of the Liberal caucus environment committee, said the environment commissioner should be independent and separate from the auditor general's office.
"Given the rising importance of the environment, (we) need a totally independent officer of the Parliament . . . who reports directly to Parliament, not through the auditor general's office."
Currently the commissioner is appointed by the auditor general and reports to Parliament on behalf of the auditor general.
---
'Green' Tories puzzle voters: Poll
Canadian Press - January 30th 2007.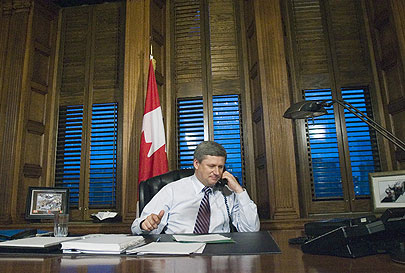 OTTAWA – The Conservative government's newfound green policy push is viewed with skepticism by many Canadians, a new poll by Decima Research suggests.
But the flip side of the public's jaundiced opinion of Tory motivations isn't exactly a warm embrace of Liberal Leader Stephane Dion's environmental record.
The national survey, provided to The Canadian Press, indicates there are plenty of doubts about all the major federal political parties when it comes to environmental policy.
"Neither the Liberals nor the Conservatives have won this debate about which party . . . is decidedly better from an environmental standpoint," Bruce Anderson, Decima's CEO, said today.
``So there's room for the Conservatives to feel that they can make headway on this issue."
That's the good news for the government.
But the poll has a distinct downside for Prime Minister Stephen Harper as he attempts to reposition the Conservatives on the file.
By a four-to-one margin – 64 per cent to 17 per cent – a large majority of the 1,023 respondents in the survey conducted Jan. 25-28 said they believe recent Tory environment announcements are being driven by public opinion rather than genuine commitment.
It was the dominant opinion in every region of the country, and even among self-identified Conservative supporters. Some 42 per cent of Tory voters in the poll called the government's green thrust poll-driven, while 37 per cent credited a deeper commitment.
On an emerging motherhood issue like environmental stewardship, that's a potentially crippling level of cynicism.
"The challenge for the Conservatives, on this issue and on a few others, is essentially the same one: it's about shared values," said Anderson.
"The Conservatives need to connect with more voters on the basis of `we share the same value system as you do."'
The Liberals historically have been able to stake out this territory, said the pollster, even when their specific policy actions didn't distinguish them.
The poll found an even split on Liberal Leader Stephen Dion's record as a former environment minister: Some 37 per cent agreed with Conservative charges that Dion's record was weak, while 35 per cent disagreed – and fully 28 per cent had not formed an opinion.
The numbers may help explain why the Conservatives are rolling out hard-hitting television ads targeting Dion.
"They have to both reduce the apprehensions about what a Conservative government would mean for the environment and perhaps increase doubts about whether a Liberal party government would be any better," said Anderson.
"It looks to me like the Conservatives are trying to accomplish both of those tacks."
When Decima asked how respondents would vote if the environment was the only issue in the next election, the Green Party led with 24 per cent support.
Under this hypothetical scenario, the Conservatives and Liberals were essentially tied, 17-16, while the NDP attracted just 10 per cent support and the Bloc Quebecois only four per cent.
The squeeze play on New Democrats – the one party that has consistently championed environmental policy in the Commons – is causing deep frustration among some party supporters.
Jamey Heath, a former NDP communications director, posted an op-ed rant on the left-wing rabble.ca website recently, excoriating those who criticize the NDP for attempting to help the Tories rewrite their much-criticized Clean Air Act.
"That's how low this debate has sunk," wrote Heath. "Just scream `Harper Helper' and watch facts and possibilities fly out the window, all because that's how Liberals say politics work."